Mon, 16/09/2019 - 09:00

to

Wed, 18/09/2019 - 13:00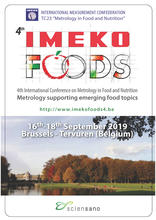 Description
You are invited to the 4th international conference on Metrology in Food and Nutrition (IMEKOFOODS). The conference is a collaboration between Sciensano and Imeko TC 23, and took place on 16-18 September 2019, at Sciensano, Tervuren, Belgium.
The 4th IMEKOFOODS conference addressed:
metrological issues in measurement
data in food quality
food integrity
food safety
nutrition
with emphasis on new technologies.

The results and findings are published in the book of abstracts.
In addition to technical and poster sessions, scientific discussions and workshops dedicated to specific initiatives encouraged new collaborations and strengthen existing ones.
Conference topics
food quality
food composition
food Safety (trace elements, speciation, environmental- and processing contaminants, toxins, pesticides, veterinary drugs, hormones, …)
food integrity, adulteration, authenticity and fraud
food Omics
food microbiology
natural and bioactive compounds
dietary supplements, nutraceuticals

GMO

sequencing and

NGS

nanomaterials
food packaging and food contact materials
food processing
nutrition
nutritional epidemiology
food consumption, bioavailability
dietary intake, risk assessment
quality assurance, reference Materials, proficiency testing, measurement uncertainty
metrology

&

metrological traceability
accreditation and standardisation
More info:
This event contributes to Sciensano's activities in the field of:
Address
Price
Standard price before June, 15th 2019 : 450 euro - before September 1st : 500 euro - from September 1st : 600 euro | discount tarifs can be found on the conference website: www.imekofoods4.be