Primary tabs
Dr. ir. Myriam Sneyers PhD
Scienstist, Head of service "Strategy and external positioning", Head of the services of the managing direction, one health coordinator
Ir SNEYERS Myriam, PhD is currently scientist at Sciensano (Brussels, Belgium).
She received her Master degree in Agronomy (Bio-Engineer) from the Faculté des Sciences Agronomiques, Gembloux, Belgium (1985). In 1995, she received a PhD (Doctoral degree in Agronomical Sciences) from the same university.
She is also Post Graduate (Certificates) in Business Administration and Management (1994, Université Catholique de Louvain-La-Neuve, Belgium) as well as in Public Management (2005-2006, Solvay Business school, Université Libre de Bruxelles, Belgium).
M. Sneyers has worked between 1985 and 1994 as researcher on several topics (Rotaviruses, BVD virus, development endocrinology, HIV) in different universities (Université de Liège and Faculté des Sciences Agronomiques de Gembloux, Belgium), as well as in the pharmaceutical industry (GlaxoSmithKline Biologicals, Rixensart, Belgium). During the period 1994-1995, she also acts as supervisor of vaccines quality control in the same company.
In 1995 she entered the Scientific Institute of Public Health in Brussels as expert scientist in biosafety for the risk assessment of GMOs and the contained use of pathogens. As such, she also served on several scientific and regulatory national and international committees. In 2005 she became head of the unit 'Biosafety and Biotechnology'.
From 2008 to 2016 she has managed the directorate 'Expertise, service provision and customer relations' which gathers more than 120 scientists and technicians.
Currently fields of scientific activity of the directorate are: Biological standardisation (assessing, controlling quality of vaccines and products derived from blood), Quality of medical laboratories (monitoring agreements and inspections of medical laboratories, external quality control of their services, as well as in vitro diagnostic medical devices), Biosafety and biotechnology (assessing risks to human and animal safety and the environment linked to the use of GMOs and/or pathogens), Molecular biology and biotechnology (GMO detection laboratory and coordinator of the national GMO reference laboratory; logistical, technical and scientific support of the WIV-ISP's operational directorates regarding molecular biology and bioinformatics) and Data warehouse for health data/register (project HealthData.be).
Since Augustus 2016, she is General Director a.i. of the Scientific Institute of Public Health, and on the 1st of April 2018 she became Managing Director a.i. of Sciensano. Since 1st January 2020 she is scientist head of the service 'Strategy and external positioning' as well as head of the services of the managing direction of Sciensano. She is also coordinator of one health projects leaded in Sciensano.
During her professional experiences, she has developed scientific expertise in molecular biology, biosafety and biotechnology and in quality control, domains in which she has scientific publications. She has also a large experience in managing scientific activities.
Works in:
Read more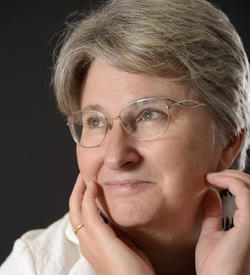 Address
Belgium
QR code