Interactive map of cases of highly pathogenic avian influenza
H5N1

/

H5N

x in Belgium from 01/09/2021 onwards.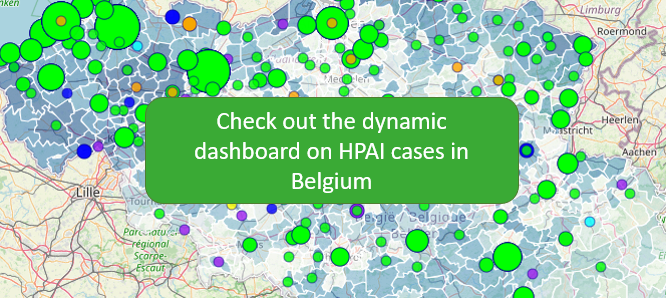 Cases of highly pathogenic avian influenza
H5N1

/

H5N

x in Belgium from 01/09/2022 onwards.
Updated on 27/09/2023.
The map above shows all detections of the highly pathogenic H5N1 avian influenza virus in Belgium from September 1, 2022. In it are:
wild birds: circles
domestic breeding: triangles
mammals: square
Season 2022-2023
A very large number of wild birds have tested positive for highly pathogenic avian influenza ; the infectious pressure in the wild is thereby high. The number of infections in the poultry sector is not negligible (38 holdings since September 1, 2022, including 17 professional farms, 20 private owners and 1 zoologic park). Ferrets were also positively detected with the virus at a private keeper where an outbreak in chickens and ducks was detected. Fifteen wild foxes and three wild polecats were also found positive. This underlines the very high level of vigilance and biosecurity needed in order to avoid the introduction of the virus into its facilities.
Previous seasons and outbreaks
Bird Flu in Belgium
Only two outbreaks of HPH5Nx were observed in 2020 whereas, in 2021, the Belgian NRL for Avian Influenza confirmed 11 outbreaks on farms (6) and in animals living in captivity, and all of this without any real interruption over the summer period. A remarkable development because, up to then, the outbreaks of the influenza virus occurred primarily in the winter period and there was a characteristic "summer break". The loss of seasonality could indicate persistent circulation of the virus in animals living in the wild.
The autumn migration of wild birds in 2021 breathed new life into the epidemic, bringing with it a stream of new highly pathogenic H5Nx-viruses. The first positive wild bird of the new wave in Belgium was confirmed on 12 November 2021, and was followed by the first positive poultry business on 8 December 2021. The 2021-2022 bird-flu season was testament to the usefulness of the surveillance of wild birds as a warning system.
In 2021, 30 wild birds, such as geese, ducks, birds of prey and coastal birds, tested positive for the highly-pathogenic H5Nx-strain of the virus. Within one month (January 2022), there were an additional 30 new detections in wild birds, meaning there was a lot of (highly-pathogenic H5) bird-flu virus circulating among these animals (high infection levels) at the time. These cases in wild birds were primarily detected in the north of our country, which is particularly densely populated with water birds, but which is also where the vast majority of our poultry businesses are located. The first wild bird to test positive in Wallonia was reported on 9 February 2021 in the province of Liège.
During the 2021-2022 season, the cases identified in wildlife increased sharply, and 7 outbreaks were notified in the domestic poultry farming sector (6 professional farms and one private farm).
Bird flu in Europe
Since 2014, the highly pathogenic form of the bird flu virus (highly pathogenic H5Nx-influenza strains) has occurred regularly in Europe. Since 2016, this has been the "clade 2.3.4.4b H5" strain.
| Season | Number of outbreaks in Europe |
| --- | --- |
| 2016-2017 | 2,781 |
| 2017-2018 | 166 |
| 2018-2019 | 21 |
| 2019-2020 | 334 |
| 2020-2021 | 3,559 |
| | |
| --- | --- |
| 2016-2017 | 2017-2018 |
| | |
| 2018-2019 | 2019-2020 |
| | |
| 2020-2021 | |
| | |
Figure 1: Representation of the outbreaks in the various clade 2.3.4.4b HPAI-H5 seasons since 2016 (source: EFSA). Circle = outbreak in poultry, star = outbreak in wild birds, triangle = outbreak in birds living in captivity.
The type of virus currently circulating is especially virulent for both poultry and birds living in the wild. The European Food Safety Authority (EFSA) has labeled the bird flu outbreak of the winter of 2020-2021 the most devastating and long-lasting epidemic of highly pathogenic avian influenza (HPAI) that has ever occurred in Europe.
More info on the webpage of the NRL Avian Influenza.