Sciensano welcomed His Majesty the King within the framework of the management of

COVID

-19, on Wednesday the 11th of March 2020.
King Philippe, accompanied by the Minister of Public Health Maggie De Block, and representatives of the FPS Public Health, visited the human infectious diseases department of Sciensano, as part of the management of COVID-19.
This visit was an opportunity for the Sciensano experts and their partners to recall the impact of the coronavirus and the importance of preventive measures to limit the spread of the disease in our country.
During this meeting, His Majesty the King visited the laboratories of human infectious diseases unit and met with scientists from Sciensano, who provide crucial information to help the authorities make decisions. A presentation of the management process for COVID-19 took place, followed by an explanation of the epidemiological monitoring by the Risk Assessment Group (RAG).
Note that no handshake was exchanged during Her Majesty's visit! This is a small symbolic gesture, but it's very important, in the context of the fight against COVID-19.
We reiterate our thanks to His Majesty the King for his support towards our experts and his encouragement to respect the measures announced, in the interest of all.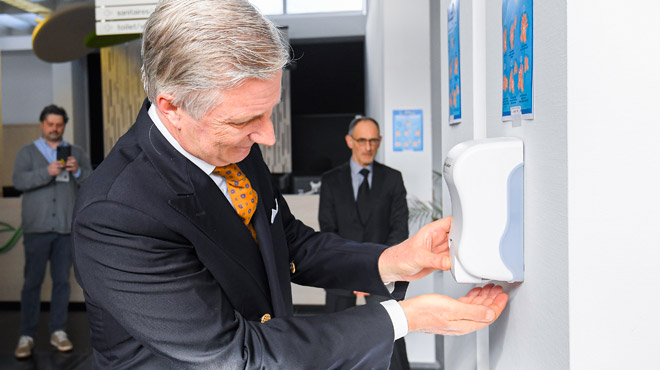 Credit : Belga image
Associated health topics: