National Reference Center (NRC) for Hepatitis A, B, C, D and E viruses
National Reference Center (NRC) for Hepatitis A, B, C, D and E viruses
Important communication (July 2023)
Hepatitis in children of unknown aetiology
This episode is followed up in cooperation with the NRC for respiratory pathogens​.
On 8th April 2022, United Kingdom reported an increase in the number of children cases with acute hepatitis. The same was also observed in other European and North American countries, as soon as the 1st October 2021. Since Summer 2022, the number of new cases dramatically dropped.
Cases are characterised by elevated liver enzymes (ALT and/or AST > 500 IU/L) and often present jaundice. In addition, the most frequent causes of hepatitis (hepatitis A, B, C, D and E viruses) are ruled out.
Several scientific publications (Vidal et al., Ho et al., Morfopoulou et al.). were published since then. They present Adeno-associated virus 2 (AAV2) as the most probable cause of this episode. AAV2 needs a co-infection with another virus such as Adenovirus or Herpes virus.
The National Reference Center (NRC) for viral hepatitis does not actively collect anymore samples from children presenting with hepatitis of unknown aetiology. Though, samples are always passively collected. In this cases, requesting labs are invited to contact the NRC by e-mail.
Workflow
Hepatitis A Virus (
HAV

)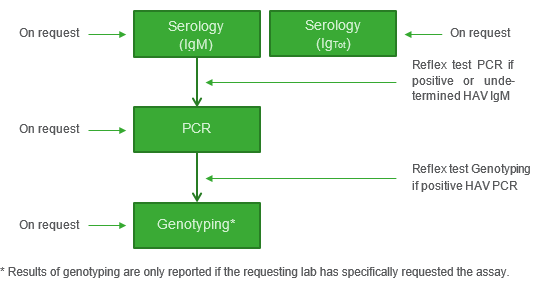 Hepatitis D Virus (
HDV

)
Hepatitis E Virus (
HEV

)
Helpful links:
You can consult the accompanying epidemiological surveillance reports at: Health topic Hepatitis A, B, C, D and E, Health topic Vaccine-preventable diseases.
Pathogen:
Hepatitis A, B, C, D and E viruses
QR code